A 7am start at King's Cross for this game - there's engineering between York and Doncaster so trains are going via Leeds - at York we detrain to another train for the final leg to Darlo. A bit of a pain but there is an upside - we arrive early so pies are bought in good time for me to be in the Quaker for opening.
As ever there's a great choice of beers with plenty of new faces including Newcastle Pioneer, Ouseburn Porter and Tyneside Blond from
Hadrian & Border
;
Brentwood Brewery's
Roy Rogers; Caulker and Farne Island from
Jarrow Brewery
;
Captain Cook's
Sunshine and
Derventio's
Et Tu Brutus.
I didn't try them all but the two I did - the Newcastle Pioneer and Roy Rogers - were very good indeed and in tip-top condition, especially the Pioneer.
It would seem that this may be the last time I see Steve and Linda working the lunchtime session - Steve is in the process of setting up a line cleaning business - given the quality of beer in the Quaker during his time there there's no doubt he knows how to keep lines in tip-top condition so hopefully his reputation, and his awards, will stand him in good stead. Good Luck, Steve.
Number Twenty-2 also had it's fair share of new and interesting beers but as usual I forget to make a note and all I can remember is the Paddy's Porter from Wychwood (which I didn't try). The pub was very busy today but not sure why - we certainly weren't being overrun with Morecambe fans.
We decided that today would be the day to divvy up the DAFTS Beer Tax - by the time we'd made our contributions for the day we had about £147 - Tony kindly swapped a lot of the shrapnel for notes and pushed the total to £150. This includes some contributions from Rotherham and Chelsea fans plus the odd regular in the Quaker. Thanks to all who contributed.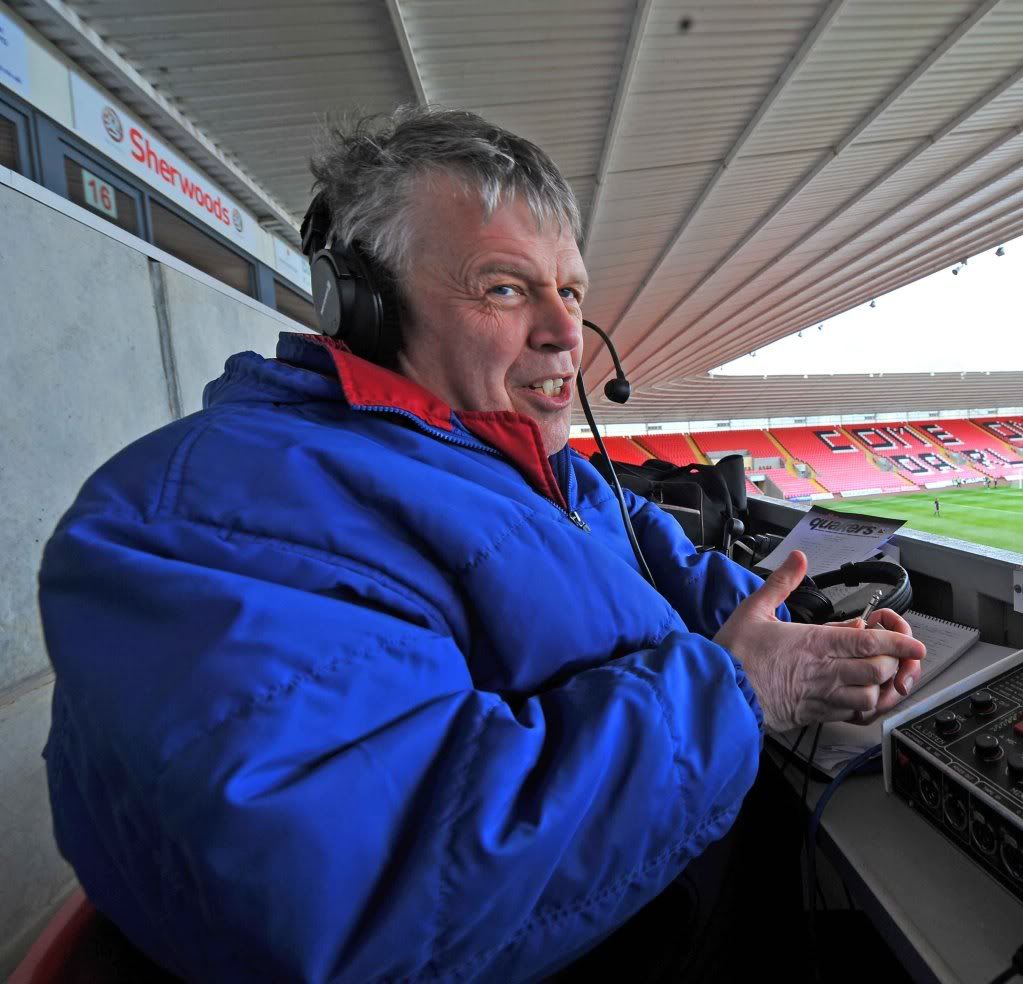 It was a relatively early trip to the ground for me at 2pm - joined in the taxi by old chum Doug Embleton who was taking one of his old workmates for his first view of the Arena - lucky chap.
(left) Ray Simpon looks worried

The club shop had a sale so I got myself some training bottoms - you never know how desperate we'll be next season.
In reception I handed over the DAFTS Beer Tax to Karen Glencross who was manning reception and then signed in at the press desk - the first time for quite a while - as today would see me being co-commentator with Ray Simpson on BBC Radio Tees.
The chance for this opportunity had been put to auction and I won - cheaper than I expected - and I caught up with Ray in the commentary area. I've been up there quite a few times in previous seasons when I used to sign in as a photographer. To my right were some other acquaintances, Andy Wilkinson (of the Evening Gazette) and Frank Tweddle who has been Darlo's historian since.....well, since records
began.
(right) Frank Tweddle and Andrew Wilkinson on duty
Ray went over a few of the basics - nothing really to worry about, just have fun and a chat - we would be going over to Radio Tees for the odd snippet and the rest of the time we'd be speaking to the good folk subscribing to Quakers World.
The game itself was one of a few chances at either end - they hit the woodwork whilst we missed a couple of very good chances at each end. Purdie and Kennedy both had good games - Hatch looked a little off the pace and things didn't quite click for us in the final third.
Young keeper Kazimierczak didn't have an awful lot to do but was comfortable with what he faced - again, his kicking looked to be a bit wayward but hopefully Andy Collett will help him with this.
It was good to see Neil Wainwright back at the Arena - played a full match and he got in one very good cross that went begging in our box - a shame we didn't keep him for one last season as I think he still has something to offer as a second half sub.
So it wasn't a total surprise that the game finished goalless - in fact it was a bit of a relief. I think that if we'd got a goal we'd have gone on to improve but in the end we just got frustrated.
(above) View from the commentary box
What was a total surprise - to me and certainly to my neighbours in block 11 - was that I managed to watch a whole game and not swear or even be vaguely abusive towards the opposition or the officials. Whilst I could get used to being in the co-commentators chair, I'd miss the cathartic affect of shouting at players. Unless the BBC does a Sweary Channel of course.
We had to change trains at York on the way home - we had about 45 mins to spare so more than enough time for us to drop into the
Maltings
by Lendal Bridge - one of the city's best pubs and ever so handy for the station. To Martin's delight, they had his favourite real ale tipple, York Brewery's Guzzler, whilst I had a pint of something by the
Outlaw Brewery
.
The remainder of the journey was spoilt a bit by the number of braying Premiership fans, mainly Chelsea and Portsmouth, on the train who thought we were interested in their banter and their ever-so-funny songs about German bombers. Just fuck off you wanky twats!!
The BBC don't know what they're missing...