For the home game with Kidderminster I was already in the north - visiting my Mum in Northallerton - and so I was able to get through to Darlo nice and early and have a damn fine breakfast followed by a quick peruse around time and a visit to Taylors.
Of course this also meant I was first into the Quakerhouse which had one of the best selections for quite a few weeks -Osset
Silver Link
, Jarrow
Westoe IPA,
William Bros
7 Giraffes
, Wylam
Hablon Nouveau
, Mithril
Scrum Down
, Tirril
Pilsner
, Oakham
Mompessons Gold
, Acorn
Old Moor Porter
and Ilkley
Smoked Witch
.
The 7 Giraffes was the pick of the bunch but the Oakham wasn't far behind.
Despite this excellence, we wandered up to Number Twenty-2 and it had to be said they had a pretty cracking range on too -Everards
Pitch Black Stout
, Exe Valley
Viceroy IPA
, Black Sheep
Emmerdale
, Hawkshead
Windemere Pale
, FFF
Alton's Pride
and Daleside
Old Legover
.
No question here as to the best beer - the
Windemere Pal
e blew all the others away and it has also come in for a lot of praise amongst the beer bloggerati. A brewery with a bright future.
But all good things must come to an end and so we made our way to the Arena where the prospect of a tight contest awaited us. Kiddy had excellent away record but after Darlo's 4-3 win at Stockport a few days earlier, it was time to put a spoiler on the visitors' record.
It was not going to be easy as Spike Lee had suffered an injury in training so Jonathan Sanchez-Munoz retained his place as Cooper kept the same side from Stockport.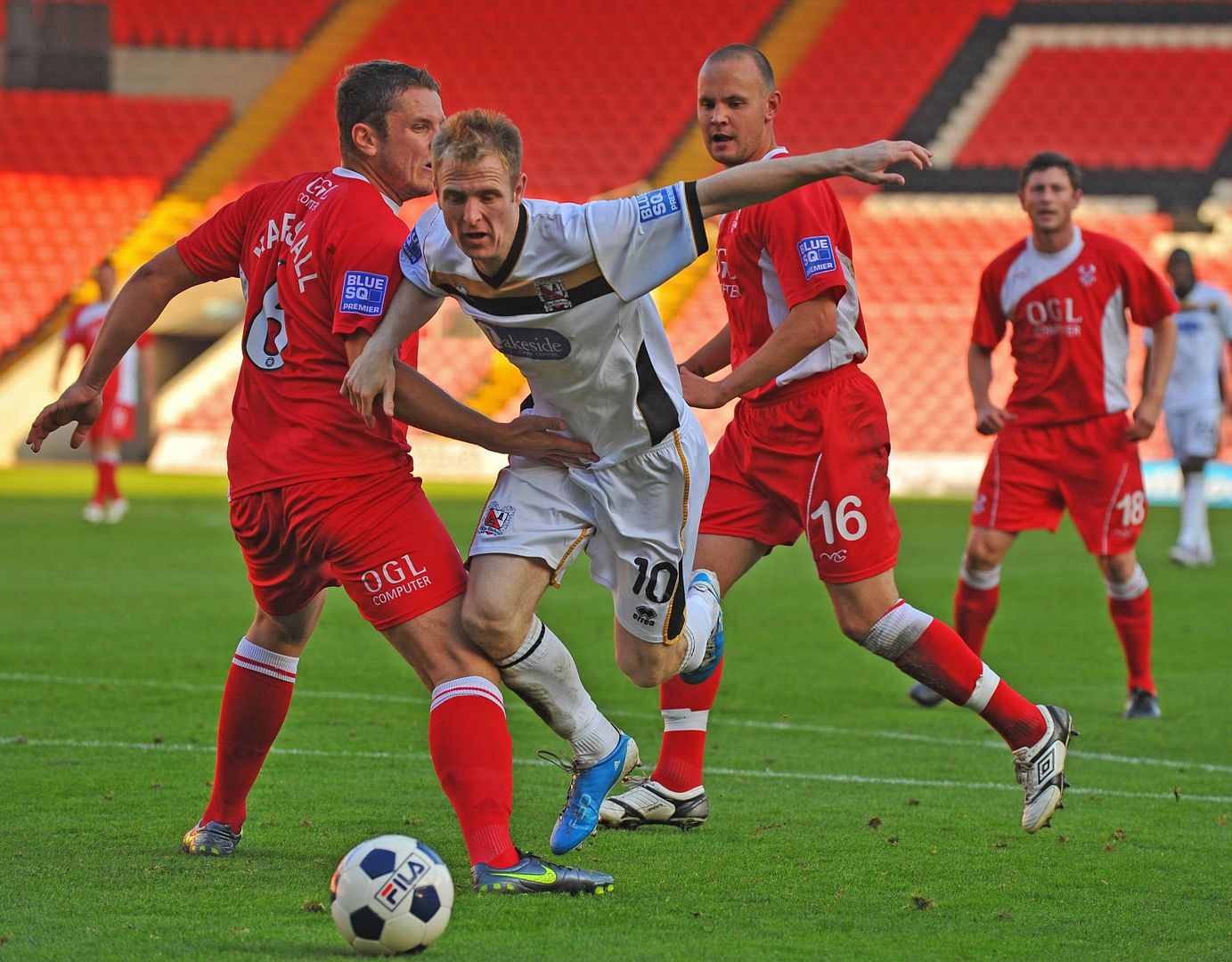 James Walshaw takes a tumble
Lee's continued absence also meant a home debut for Exodus Geohagon - Big Ex as he is destined to be known as at 6ft 5in he is a rather hefty bugger.
Big Ex also has a mean throw on him and this is something Darlo looked to use whenever possible. A nice thing to have but I hope we don't use it all the time.
Out on the right wing Adam Rundle impressed and produced some good crosses which put the Kiddy keeper under quite a bit of pressure before hitting a corker of a long-distance shot which was pushed wide.
For their part Kiddy didn't create many chances but thankfully spurned a good one before the half-time whistle. And the after the restart Ole Soderberg was beaten but the bar saved him.
The Quakers should have had a penalty early in the second half after James Walshaw was taken out though it has to be said that Walshaw doesn't help matters as he can be a bit theatrical.
Darlo continued to attack but the Kiddy defence were defending well with some real last gasp blocks and it looked like the game would be goalless.
And then with ten minutes remaining Darlo got a throw which allowed Big Ex to hoist a ball deep into the Kiddy box - this was cleared but only as far as Jamie Chandler - he popped the ball back in where Big Ex flicked it to Sanchez-Munoz who finished neatly from close-range for his first goal for the club.
Kidderminster rallied and had a couple of good chances - one after Sanchez-Munoz was turned inside out by the Kiddy forward line but for once Sodeberg looked in control and came out to gather the ball.
The lead could have been doubled at the end as Darlo attacked on the counter - Bowman outran the Kiddy defence but hit the post with only the keeper to beat.
Overall a very decent performance, especially after Tuesday's win, and it goes someway to ridding the memory of that woeful performance just one week ago at Bath.
Sanchez-Munoz scores his debut goal to win the game for the Quakers